Housewarming Must-Haves to Warm Up Your Cold Bachelor Pad
October 13 2013
Bachelor pads are for men. Not boys. Make it look that way. Invest some cash into your fortress of solitude. Register for cool housewarming gifts for bachelors and turn it into the place to be Saturday night.
Less is More
Minimalism makes your place look bigger, cleaner and manlier. Minimalism can also make your place seem as cold as a bitter stare from your ex-girlfriend. Fill your space with stuff that makes you feel cozy but doesn't clutter.
This Ikea Hamra "seating unit" gives off a swingin' hotel vibe without a hefty hotel price tag. This bachelor pad centerpiece has enough seating for your fantasy football draft party.
Get a Dog
Chicks love dogs. They especially love "rescued" dogs. Saving Astro from the pound (and certain death by euthanasia) not only makes you a hero, it gives you an excuse to bring your new lady friend upstairs. Guyville Pickup line: You should come up and help take my dog out... then you can help with Astro.
Get a Bar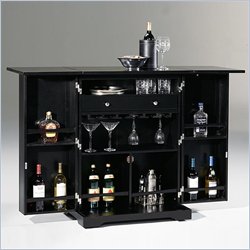 Pimp out your place like Don Drapper's office. This Ebony Folding Home Bar adds sophistication with a space saving design. The bar part really doesn't matter - it's the idea of the bar that counts. Invest $50 bucks in liquor, and get these housewarming essentials:
It doesn't matter if it's cheap. People don't care what they drink if it's presented right. A personalized set of Double Old Fashioned Glasses sets the standard for your minimalist bar - convince your friends to spring for it as a housewarming gift and you're set.
Entertain your Friends
The quintessential bachelor pad has a TV so large, it's obviously overcompensates for something. No one wants to sit at your house and watch your big TV. Bring something more to the party. Board games like Apples to Apples, Catch Phrase and Cranium are gender neutral and make awesome drinking games.
Woman-proof your Bathroom
When a girl walks through the front door, the bathroom is the first place she's heading - to scope out your medicine cabinet. Place extra toilet paper in plain view, keep a stack of fresh towels and always have a spare toothbrush on hand. A Silver-Plated Shave Kit is an elegant accessory that says, "I'm a classic, worldly gentleman who cares about every detail."
Art adds Class to the Dude Sanctuary
You don't live in a T.G.I. Friday's, don't put up crazy crap for the hell of it. And your Tony Montoya "say hello to my little friend" poster isn't doing the trick either. I'm not a mobster, I'm not a mobster - repeat until it sticks and you're ready to get rid of the mobster memorabilia. Tasteful wall art shows off your personality and adds depth to a room. Change the focal point of your bachelor pad with a well placed personalized bar sign.
Framed Pictures are a Chick Magnet
Women gravitate toward them, and judge with an iron fist. You pictures show your history, values and passions. Pictures of you with the family are great. Pictures of you and the ex are not.
The point of a bachelor pad is to create a home fit for a man. Keep an eye for detail. Stay classy and choose comfort over style. And do not put a reed diffuser anywhere. Remember, you're a man.